AUTOMATIC TRANSFER SWITCHES
Aksa Power Generation represents a complete line of non-proprietary automatic transfer switches. We have a full and diverse line of automatic transfer switching solutions that will compliment any standby or prime power project. Whatever your job specifications or requirements demand, Aksa USA can provide you with the proper product to meet your needs.
Call or contact us today for more information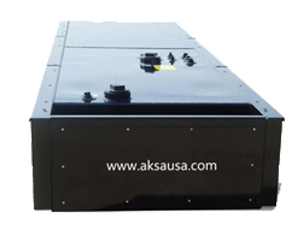 AKSA FUEL TANKS
Aksa Power Generation fuel tanks are manufactured with the customers in mind. The diesel tanks are engineered to meet the rigid requirements of the standby and prime power industry. Whether you need a 12 hour tank for 10kW or a 24 hour tank for a 2 megawatt system, Aksa USA will be there to assist you with your fuel requirement needs.
Our Fuel Tanks come standard with vent caps, fuel sensors and a fuel gauge. All tanks are UL 142 listed and made in the USA. The double wall design and convenient fuel port make usage a breeze. Special certifications (UL2085, FDEP, MDEQ, etc.) are available upon request.
Call or contact us today for more information